Document Translation: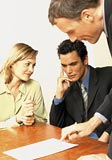 Translation of commercial, technical and lawful documents: contract, technical documentation, bidding materials, product manual, company profile, research report, document for going abroad, notary document, resume and literary and artistic works.

Translation of Video-tapes:

relevant service range includes: translation of captions of video-tapes and VCDs, simultaneous audio recording and multi-media production and CD making supporting different formats and software background.

Translation of Webpages :

computer software translation, compilation, testing and other Chinesization services.

Website Chinesization:

website construction and chinesization, translation of Chinese language wepages and website maintenance.

Site-translation:

translation and interpretation for international conferences and commercial negotiations, and simultaneous interpretation for large-scale international conferences.

Publication Translation:

translation of professional publications

English Writing:

writing services of dissertation, academic thesis, commercial correspondence, plans for studying abroad, bidding documents, etc. Typesetting and typewriting of Chinese and Foreign languages: PDF, PAGEMAKER, FRAMEMAKER, FREEHAND, ILLUSTRATOR and other typesetting formats are provided with related document binding, printing services, etc.

Specialty Categories:

Finance and economics, machinery, chemical engineering, IT, medicine & Pharmacy, medical apparatus, geography, international trade, insurance, finance, aviation, architecture, marine, foodstuff, environmental protection, law, electronics, telecommunication, automobile, real estate, literature, advertisement, and logistics, etc.

Translation Language Classification:

English, Japanese, German, French, Russian, Italian, Portuguese, Korean, Romanian, Farsi, Thai language, Vietnam Language, Mongolian, Czechoslovakia Language, Denish, Swedish, Serbo-Croatian Language, Oneida Language, Malaysia Language, Indonesia Language, Laos Language, Burmese Language, Dutch, Ukraine Language, Hungarian, Finnish, Turkish, Greece Language, Urdu, Arabic, Poland Language, Norwegian, Irish, Bulgaria Language, and Cambodia Language, etc.