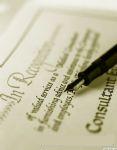 In order to ensure the correctness of the translation, our company practices the quality control system as follows.

1.Specialized Translation Team with more than 400 certified and accredited linguists, as well as specialized teams, which are capable of satisfying the most demanding requirements.

2. We have strict procedures for distributing manuscripts. The senior translators and professors, who have abundant experience of long-time translation, take charge of distributing all the documents. Before the translation, the staff member must undergo the technological introduction and related training so that they can be familiar with the specific translation requirement.

3.Strict original manuscript distribution procedure where our experienced translators distribute your manuscript to a specialized suitable translator.

4.Monitoring and Tracking during the translation to solve any translation difficulties promptly. With large projects, we establish a team that will include our senior translators, professors and foreign experts.

5.Meticulous Proofreading, when the translation is complete, other translators will carefully proofread to check the manuscript for inconsistencies and errors.

6.both the words and the technologies should be checked, adding double insurance to the translation quality.

7. We often recruit professional translation to strong team.